"Help – My Barcodes Won't Scan" – all you need to know about Barcode Verifiers
"Help – My Barcodes Won't Scan" – all you need to know about Barcode Verifiers
Thermal label printers are widely agreed to be the best way of printing barcodes.  However, they wear through their printheads and eventually white lines can appear in barcodes.  These white lines can prevent barcodes from scanning.  Sometimes the first you know that your codes won't scan is when your customers phone to say they're rejecting your last consignment of product.  If it's fresh product, you are likely to end up scrapping your entire shipment.  Just to rub salt into your already tender wounds, larger retailers will actually fine you for non compliance.
Even on a personal level, you'll have experienced poor quality barcodes yourself if you use self scanning checkouts at the supermarket and a product just won't scan!  It's frustrating and time consuming.  
What should you do to prevent that from happening?  
Barcode verification is the jargon phrase for "barcode quality" checking. Barcode verification grades seven barcode qualities to make sure it is of a high enough quality for scanning purposes.  A barcode verifier is the 'instrument' used to grade the barcode and can identify if there are any issues within.  
A verifier will grade the colour contrast, the ratio of thick and thin bars – all that sort of stuff you'd rather not have to worry about.  If there is an issue with even just one of the grades, the verifier can tell you and then you can fix the problem – without needing to get a call from an angry customer.
What do I need to know about barcode verifiers?
First of all – barcode verifiers aren't just barcode readers.  They are highly tuned instruments for measuring barcodes.  A verifier can give you a report that you can use in court and is a key part of any company's quality assurance programme.  Not only do you need a key quality tool, but you need staff trained to interpret and act on the results.  We can help in this area also.
Smaller barcode verifiers start from around £1,650.  These will read narrower barcodes – typically up to 68mm wide.  If you need a larger verifier (for reading pallet barcodes up to 195mm) you can expect to pay in excess of £3,000.
Portable units are available, as are verifiers for 2D barcodes.    
If you think this is expensive then you probably haven't experienced a product recall because of substandard barcodes.
If you can't commit the budget to a barcode verifier, just having a basic barcode reader to sample barcodes for readability could warn you if your barcodes need investigation.  Contact us for suitable low cost scanners.
If you feel your business could benefit from a barcode verifier, please contact us on 01359 271111 of click the chat button below.

Loop Lock Label Uses
Are you looking for a Loop Lock Label? Expert Labels can provide a Loop Lock label in a wide range of colours and sizes. You can see our full range here.
There are so many industries that use Loop Lock Labels…. to name but a few…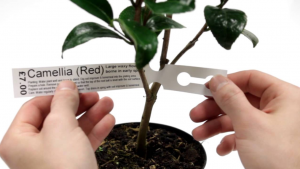 There are hundreds of uses of these versatile labels: –
Baggage tags
Christmas trees
Cycles
Nurseries
Campsites, and many, many more!
Click here to view our price list.
If you need any advice please contact a member of our team who will be more than happy to help with your needs.
Rainbow Reflective Foil Labels
Rainbow Reflective Foil Labels
What is a Rainbow Reflective Label?
A Rainbow Reflective label is very similar to a holographic label but at a fraction of the cost. A true holographic label is extremely expensive to create.
Rainbow Reflective labels are a brilliant way to ensure your product stands out on the shelf, but they also have plenty of other uses. For example, businesses often use Rainbow Reflective labels and stickers for security and authenticity labelling. Rainbow Reflective labels give the impression of quality to any product and create an authentic appearance that makes a product instantly more interesting.
They can also be customised for your specific product. These labels come on rolls of various sizes and colour and we can print your design, company logo or anything you want on them. The labels are also waterproof and tear resistant.
If you would like some more information on these labels please do not hesitate to contact us. 
Vicki Francis – Account Manager Expert
Vicki Francis – Account Manager Expert
Vicki has been with us now for over two years. She is our girl that keeps the office ticking over beautifully. Vicki deals with all of our re-ordering and enquiries as well as helping out with the rest of the staff when its all hands on deck.
Vicki is currently away on maternity leave after just having had her third little boy. Between the boys and her husband she is kept very busy but when she does have a spare minute she loves nothing more than curling up with a good book or going for a walk.
Craft Beer Industry and Labelling – How Beer Bottle Labels Make all the Difference
Craft Beer Industry and Labelling – How Beer Bottle Labels Make all the Difference
---
The Craft Beer Industry is Thriving
With the explosion of the Craft Beer industry over the past few years, the taste of the beer isn't the only aspect of it garnering attention. The beer bottle labels play almost as big a part in the popularity of the drink as the flavour itself, with a study by Anglia Ruskin University's pubLAB research centre (I have to get a job there!!) finding that the label design was more important than shelf space when it came to first time buyers of a new craft beer, and the continued appeal of the beer.
The Rise of Craft Beer
Coming up in a time of economic uncertainty and following a recession, microbreweries are a product of necessity, as entrepreneurs who have had to adapt and evolve to the changing world of employment make work for themselves. Although the large breweries have dominated the market for over 70 years, microbreweries are seeing an increase in start-up, production, audience, and turn over – and all in a time of lowering beer consumption.
Although consumers are  turning to independent craft beers in preference to the tried and tested giants of the beer world, there is still healthy competition between the different microbreweries. Since they're all producing different tasting beers, there is room for multiple beers to thrive successfully in the market. However, it's interesting to note, consumers will, more often than not, stick with the first beverage they've tried, without venturing out to buy different brands.
With this in mind, the importance of the label starts to become more critical.
The Importance of Beer Bottle Labels
Luckily for us, the huge growth in the craft beer sector has seen a similar growth for beer bottle labels – and with the label design such an integral part to the adoption of a new beer by first time customers, getting the right design on the  label can be the deciding factor in acquiring new, long term, customers.
So what makes a label stand out from the rest? The bold designs you find on the newly established craft beers flying off supermarket shelves find inspiration in places as diverse as Soviet art to US 1980's counter-culture iconography. These designs play a huge part in drawing in a new customer; studies have shown that the design of the can or bottle is more important than shelf space when it comes to the deciding purchase factor. So how can you go about getting the perfect label for your beer?
Suitable Labels
At Expert Labels, you have the choice of lots of different label materials and colours, with waterproof labels, crystal clear, matte clear, gold, silver, blue foil and glossy white just some of the options. You'll also find some unique shapes, with over 6,000 cutter choices.
If it's barcodes you need for your beer bottle labels, we can help you register and design your barcodes.  If you need to over print barcodes on your labels, see how we do it here or contact us to find out more.   Also, if you'd like to do in house case and keg labelling, we have thermal label printers.  There's a guide to the top printers for less than £300 here.
If you have any questions about our products, services, or getting a quote, get in touch with our friendly team today.
Kelly Gosling – Admin and Website Expert
Kelly Gosling – Admin and Website Expert
Kelly joined Expert Labels in 2017 and quickly mastered the finances of the business.  In 2018 she volunteered to manage the website and has been busy adding articles and news and working with contractors to make this site the best it can be.
Kelly is a fitness fanatic and runs daily (often from the comfort of her treadmill in her centrally heated home), recently boasting that she had been (virtually) running in Hawaii.  Recently she ventured out of home to compete in a Tough Mudder race making an impressive top three finish.  Kelly is a talented manager, running the lives of the four boys in her life (three sons and a husband).
Vegan Labels – Are they right for my company?
Vegan Labels – Are they right for my company?
Are you one of over half a million people in the UK who is Vegan? Veganism has increased in popularity over 350% in the past ten years alone. This is thanks to increased research into the health and environment benefits not to mention being cruelty free to animals.  If you need Vegan labels, we can help – read on.
What does it mean to be Vegan?
Generally speaking, you would avoid products containing or using meat or animal by-products including honey or bee products, insect or bone char. It can be difficult making informed choices on what you can use as there is no law in the UK to say that products have to be labelled as Vegan.
This means, as a consumer, you need to read all the information on the labels to be able to make an informed choice on your purchase. This can be time consuming and not to mention rather frustrating.
Sometimes there are animal by-products where you would not expect them. Take for example labels. The glue used on labels was traditionally made using bone parts or casein (milk protein).  Pretty much all the labels Expert Labels now offers uses acrylic glues.  The adhesive performance is generally better than with traditional labels so no compromise has to be made on quality.
Another consideration is the ink used in labels.  Inks sometimes contain animal bone char, glycerin from animal fat, gelatin from hooves, or shellac from beetles.  We have access to inks made from soya beans and can print vegan labels on request. 
One concern might be the process the label needs to go through, i.e. the machinery used in production. Typically printing equipment is very expensive and will be used for both traditional and vegan labelling needs.  Luckily label machinery needs to be cleaned thoroughly between print runs so ensure colours aren't contaminated.  That cleaning means the machinery is animal free if printed with vegetable derived inks.
Digital printing presses use toner and toner is certified animal free – so labels made using this process are free of animal products.
What am I required to include on my Vegan label?
At the moment there is no requirement under UK law to state whether a product is Vegan or Vegetarian. However, the more information we can add to a label the easier it will be for the consumer make an informed choice.  Some big supermarkets are now committing to labelling their own products as Vegan which is considered a step in the right direction by many!
Is using a Vegan label right for you?
As stated, there are no requirements to identify your product as Vegan, but if as an individual or a company it is something you are passionate about then Vegan labels will be the way forward for you. Being able to offer your customers a truly vegan product, including all packaging and labelling, gives them a great quality product at a competitive price that they can be confident is completely animal free.
If you would like more information on what Expert Labels can offer please
contact us
. A member of our team will be more than happy to help you with your needs or to answer any queries you may have. 
What Retail Suppliers Need to Know About Barcodes
What Retail Suppliers Need to Know About Barcodes
You've been told you need to put barcodes on your products and you're probably feeling overwhelmed by all these barcode names and numbers. UPC, EAN, GS1, GTIN12, GTIN13, GTIN8 – what do they all mean?  What do I need?  Let me explain all you need to know about barcodes for retail suppliers, but first let me explain how we got to where we are today.
In the beginning there was the Universal Product Code (UPC).  The UPC  was a 12 digit number that got turned into a barcode.
US retailers formed a group to manage the issue of barcode numbers and so did European retails.  So now there was a 12 digit number for the US and a 13 digit number for the rest of the world.
In 1990 the two organisations formally agreed to work together. In 2005 they started to use one name – GS1 meaning Global Standards One.
Whilst the two organisations had merged, the situation on the ground wasn't so tidy.  There were UPC A, UPC E barcodes.  There were EAN8's and EAN13s, ITF14s and EAN 128s not to mention a range of 2D barcodes from GS1.
In a bid to streamline the barcode names, GS1 launched Global Trade Item Number.  The GTIN identifies products and brings together formerly separate registers – for books, music, magazines, Japanese items, international items and American items.
So now we have GTIN8, GTIN12, GTIN13, GTIN14 and GTIN128s, but what's the difference?
GTIN-8
GTIN8s are scanned in retail shops (so you won't find these codes being read in warehouses) and are short 8 digit codes for use on small items, such as packs of chewing gum or my personal favourite, chocolate bars.
If you've got small items to label, this is the code you need.  They used to be called EAN8s or UPCEs.
8 digit barcodes are in short supply so you would need to ask GS1 specially.  If you would like help printing GTIN-8 barcodes contact us for help.
GTIN-12
GTIN-12s are used in retail.  They used to be called UPC A barcodes and are the North American format of barcode.  All barcode readers can read these codes and GTIN-12s can be used anywhere in the world.  GS1 in the US still issue 12 digit codes.
If you're located outside North America and you need a barcode for an item you'll probably be told to use the GTIN-13.
GTIN13
GTIN13s are the most commonly used barcode in retail.
If you've been told you need barcodes on your items then this is what you'll need.
They used to be called EAN13s or JAN13s and are the international barcode format.
All barcode readers can read GTIN13s and they can be used anywhere in the world – including North America.
Book barcodes look similar to these barcodes.
If you need GTIN-13 barcodes you can choose between having the barcode image added to the product packaging or having labels printed to stick onto your products or boxes.
There are strict rules for printing barcodes.  If you want help with barcode labels visit our contact us page and speak to us directly.
GTIN-14
GTIN-14s are used in the warehouse and distribution side of the supply chain.  Retailers won't be scanning these codes at the checkout.  In fact, none of the items you take to the checkout should ever have these codes on them.
They used to be called ITF-14, EAN14 or Outer Case Codes.
If you are a manufacturer – your customers will tell you if you need GTIN-14s.
GTIN-14s are GTIN-13s with a zero at the beginning.
How do you use GTIN-14s?  GTIN-14s are used on outer cases.  If you have a dozen retail items packed in a box then the label you attach to the outside of the box is a GTIN-14.  Identifying what's in the box is all they do – but if you need to provide your customers more information – read on.
GTIN128
GTIN-128 barcodes are used in warehouses and distribution also.  They are more useful than GTIN-14s because they can display more than just the barcode of the box contents.  GTIN-128s can record how many items are in a box, their batch code, their expiry data – in fact you can include over 100 bits of information in your barcode.
These codes are usually unique to the carton the label is attached to, and would usually be printed on site and applied to the carton at the time of manufacture.
If you need to print GTIN-128 labels then contact us here and we can talk you through what you need to know.
Useful links
Find out more about GS1's barcodes on Wikipedia here:
https://en.wikipedia.org/wiki/GS1#Barcodes
See our barcode label page here: http://expertlabels.co.uk/applications/barcode-labels/
Self tie loop lock labels
Buy a wide range of bespoke or stock Loop Lock Labels – perfect for harsh outdoor environments. Whether you're a Christmas tree farmer, nursery manager or a professional baker, you can buy tie in tags tailored to suit your needs.
Reassuringly durable, our non-adhesive Loop Lock Labels are made using a tough non-adhesive polyethylene material. So even during prolonged periods of weather exposure your labels remain intact – making it more efficient and cost effective.
Some other industries & environments that benefit from using these tags, other than the horticultural industry, are fish markets, abattoirs, meat packing plants, industrial laundries, 'Pick and Pack' businesses, Bakeries for tray identification, baggage tags, 'Green Fee' bag tags, meter inspection and machine repair businesses to name a few.
Chemical, water, oil and grease resistant
Wide range of colours & sizes
Prevents premature fading out of labels, to ensure excellent readability.
PVC, PET, HDPE, LDPE, PE, Polyart or Tyvek make the labels extremely resistant.
"We needed some Loop Lock Labels that were coloured and we wanted our company logo printed on them, which is very hard to come by. Expert Labels were able to provide us with everything we required. They were competitively priced and the turn around time for the order was speedy. The labels look great on our palm trees. All in all an excellent service and we look forward to working with them again!"
The Palm Tree Company
How many labels do you require?
Loop Lock Labels come on a roll. These rolls vary in size, length, width and material. The most efficient and cost saving way of producing them is to print them 4-6 across (depending on printer size). They can be printed singularly if required i.e. for baggage at the airport. 
Do they need to be resistant to chemicals or weather?
On what will you be using the labels on? What environment will they be placed? 
We can provide different materials of Loop Lock Labels depending on where you need to use them. For example if using in a Nursery we can supply labels that are tear resistant, durable, frost and weather proof. If using in a laboratory are there certain chemicals that will come in contact with the labels? 
How much do you want to spend?
There are different materials for Loop Lock Labels. For example paper, polyethylene or Tyvec. Polyethylene will be more expensive than paper. Keep in mind where the labels are going to be used, and how robust the label will need to be. 
The higher the quantity ordered the lower the price will be. 
Please click here to have a look at our prices 
Do you have any special requirements?
Expert Labels can offer many options when it comes to your Loop Lock Labels. We can provide either a basic white label or if you want something a bit more special we can offer a variety of colour labels. 
Our labels can include perforations i.e. a tear off price section. 
Please speak to a member of staff about any requirements you may have. 
Is there a minimal order size?
The minimum order size is 1000 labels. 
Do you provide any suggestions based on our requirements?
The staff at Expert Labels are experienced and always happy to offer advice if asked. 
How to Care For Your Barcode Scanner Batteries – Without Spending More Money.
How to Care For Your Barcode Scanner Batteries – Without Spending More Money.
Batteries play a big part in portable printing, barcode terminals and cordless scanners. Recently, I sat down with an expert from Global Technology Systems, a company who supply batteries to some of the world's largest companies to use in their Zebra and Honeywell devices.  I didn't realise there was so much to learn about batteries.  Here are some ideas on how to properly care for your barcode scanner batteries to keep them in top condition.
What You Need To Know About Batteries
Lithium-Ion (Li-ion) batteries are more advanced than Nickel Cadnium (NiCad) and Nickel Metal Hydride (NiMh) batteries and don't need to be fully discharged before re-charging.
Li-ion batteries don't suffer battery memory as NiCad batteries do. This means that Li-ion batteries will keep more of their charge longer.
The lifespan of a Li-ion battery is 500 charge cycles. The battery life decreases as the charge cycle increases.
If unused, a Li-ion battery will lose as much as 5%  of its charge a month.
Li-ion batteries start degrading as soon as they're made. They will only last two or three years from the date of manufacture whether you use them or not.
Li-Ion batteries degrade faster in high temperatures.
Lithium Ion Polymer (Lipo) batteries are lighter and more durable but aren't quite as energy dense as their Li-ion predecessors. Lipo batteries are regularly seen in drones and phones.
Quality batteries are date-stamped with manufacturing dates and serial numbers.
Electronics with back-up batteries must be full-charged to keep the battery in good condition.
Barcode Scanner Batteries: Charging Tips
When using a Li-ion battery for the first time, follow the manufacturer's instructions on charging.  If the instructions tell you to charge your device overnight, charge it overnight.
Charge your battery at room temperature between 4ºC – 32ºC.
Battery Life Checklist:

Follow this check-list to maximise your device's battery life
Set your LCD display back-light to the lowest readable level. Set it to auto-dim after 15 seconds of idle time.
Audible sounds use valuable battery power. Do you need them?  Turn them off or set the audible volume to its lowest practical level.
Do you have 4G capability?  Turn it off if you've got Wifi access.
The batteries I'm buying have a serial no and date stamp on them
Turn off Wifi if you're always using 4G.
Label your batteries.  Try and use the same batteries in the same mobile device (try not to mix them up).
Change your battery as promptly as possible when you see the low power alert on your LCD screen display.
Keep a charged spare battery pack on hand.
Check your batteries for leaks, cracks, swelling and other signs of damage every few months.
Never use defective or damaged batteries – they contain flammable liquids.
Replace your batteries annually if you're a heavy user (24/7 user).  Every 18 months if you're a less intensive user (i.e. 8 hours shifts).  Contact us for a quote for replacement barcode scanner batteries
Cleaning your battery contacts with a pencil eraser every few months means they will charge properly.
The future of batteries
Batteries that charge quickly, are lightweight and small and that have a long cycle life are the future.  They're needed for electric vehicles and solar storage.  Whilst barcode scanner batteries aren't likely to be in the forefront of most researchers minds, portable computing is very important and we'll see this technology arriving soon to a scanner near you.  This is what universities and laboratories the world over are working on:
Graphene batteries
The wonder material that's been in the news for the past few years is graphene.  This carbon based material can be used in batteries, providing a battery that charges 30 times faster than lithium Ion, discharges many times faster (this is quite useful when a car needs to draw upon massive power to accelerate) and is five times more energy dense than Li-ions.
We're likely to see graphene make it's way into batteries in the near future.  In November 2017 Samsung researchers have announced batteries that use graphene to charge five times faster than Li-ion batteries. They've also developed a method for making graphene more cost effectively than before, a technology that will see more uses for graphene – no doubt.
Na-Ion batteries
Those of you who remember school chemistry will recognise Na as Sodium.  French researchers have created a battery similar in performance to Lithium Ion, but with a life span of 2,000 charge cycles – four times better than Li-Ion.
Prieto Batteries
The Prieto Battery company is a US based research company working on a revolutionary 3D Li-Ion technology that promises five time better energy density, faster charging and a longer life – all made more cheaply than existing Li-Ion batteries – with the added benefit of using a cleaner, more environmentally friendly manufacturing process.  Formed in 2009, they're yet to make a breakthrough – so keep an eye on their website for future updates: www.prietobattery.com.
Solid state batteries
The university of Texas' Prof John Goodenough (the father of the Litium Ion battery) and separately, scientists at MIT, working with Samsung, have been developing solid-state batteries – an improvement on current lithium-ion efforts. These batteries seek to be safer, longer lasting and more energy dense.
Current lithium-ion batteries contain amounts of an electrolyte liquid. It's this liquid that can be flammable and which limits the life of the battery.
MIT reports their new batteries could be charged for hundreds of thousands of cycles before degrading. They could also provide a 20 to 30 per cent improvement in power density – a breakthrough for electric vehicles and drones especially as they're not flammable.
Further help
We provide all the main brands of barcode scanner batteries, along with high quality compatible batteries, at considerable savings. If you need further advice or costs of replacement batteries, email us at info@expertlabels.co.uk