How to Choose the Right Security Labels
With around 7% of the world trade affected by tampering or counterfeiting each year, it should come as no surprise that security labels have become the answer to keeping products and valuable assets safe after they leave your warehouse or business.  Let Expert Labels help protect your products and assets.

Hologram, tamper-proof and tamper evident labels are just a few security products which are used by a whole host of companies to protect their goods.
With a wide range of security labels to choose from, it is important to pick a label which suits your products best.
At Expert Labels we have a pool of knowledge to draw from which can advise you to choose the appropriate security label.  Call or email us to see what suits your products best.

Here's a few security labels which will help keep your products secure.
Tamper Evident Security Labels
As the name suggests, tamper evident labels are used to detect whether a label has been removed or tampered with. When the label is removed, it leaves behind a residue which has the word "void" written on it.

The word void indicates that the seal has been broken, but many companies like to customise the residue by adding their name or logo. Contact us and choose your own logo or text.
These products are typically used as an effective visual security aid and have value in loss prevention, brand protection and quality assurance.
Tamper evident labels can be used on a lot of different surfaces including cardboard, polyester and even glass.
However, what you must consider is if you are using the packaging more than once. If so, you want a tamper label which will allow you to clean off the residue so the packaging can be used again.
Tamper labels are an excellent product for identification but you must consider what surface you will be labelling.
Hologram Labels
Most hologram labels are used to combat counterfeiting and to indicate fakes and tampering of a product.
You are likely to see a hologram on ID badges, tickets and even on the new one pound coin.
Holograms are nearly impossible to forge as they will have originated from a master copy which requires very advanced equipment to copy. These holographic products combined with a special cutter – say in the shape of your logo – would make labels even more difficult to copy.
They can also be customised for your specific product as you can add text or your logo into the hologram.

However, extra designs would need to include serial numbers, custom imprints, custom hologram images, 2D barcode verification , microtext and other hidden security features.
As well as preventing counterfeiting, consumers seem to believe that a product which has a hologram is of higher quality than without one.
Holograms are the pricier option when it comes to security labels, but with the rapid rise in counterfeiting, they are the proven product to keep your stock safe from fraud.
Easy Break Labels Or Security Cuts
Usually made from paper, easy break labels are a low cost and effective solution for keeping your products secure.
Security cut labels are normal labels but made with a special die that cuts an intricate pattern of cuts onto the label.  They're easy to apply but once they're stuck, they're nearly impossible to move in one piece from one item to another.  Staff can see in a moment that the labels have been moved from one item to another.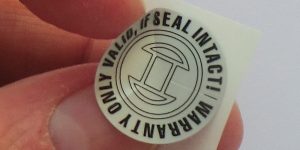 These cutter type labels are quite pricey, but the materials used to make them like paper and plastic aren't that expensive.
They are commonly used by retailers to stop shoppers moving discount labels from one product to another. However , the reason they are used on so many products is because after the initial investment in a complex cutter, on going labels can be made inexpensively.
Next Steps
Contact us and describe your situation.  Let us advise you on the best label to suit your situation.  Understand the cost of complex cutters make small production runs (fewer than 5,000 labels for example) expensive.  Special label materials like the void labels or ultra destructable labels are usually supplied in minimum quantities and again can make production runs expensive if they are small.  You might be in luck however and find we have left over materials that can be used.
Resources

Read more about security labels on Wikipedia: https://en.wikipedia.org/wiki/Security_tape
Holographic labels: http://expertlabels.co.uk/applications/holographic-labels/
Security labels: http://expertlabels.co.uk/applications/security-labels/