If you're printing batches of thousands of labels – and your solution is to collect the printed labels in a box – we have the answer to your dreams – label rewinders.
What is a label rewind unit?
How to use a label rewinder
Things to look out for when buying a label rewinder
Benefits of a label rewinder
Label rewinder prices.
Read on to learn more about these great time-saving machines.
What is a Label Rewinder?
A label rewinder is a label printer accessory that allows you to neatly wind printed labels back onto rolls.  No need to stand by your printer re-rolling labels by hand.
It has an electric motor powered from a wall socket.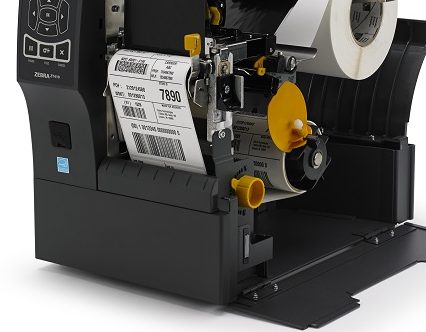 Many thermal label printers have an optional internal label rewinder you can add to the printer.
The benefit of a free standing rewinder is that it can be moved around and used with a number of printers.
Free-standing label rewinders are compatible with a wide range of different label printers – desktop models or industrial.
With a free-standing label rewinder you can rewind labels onto a range of different roll cores, unlike internal printer rewinders, which are usually fixed to one core size.
Benefits of a label rewinder
Label rewinders save time and effort when you're printing thousands of labels.
Unattended rewinding.  Start printing your labels, return to the printer when the labels are finished. 
Consistent rolls.  Rolls are rolled at a steady tension.  Rolls are neatly rolled onto the cores.
Quick.  Many rewinders can work at the same speed as your printer.  Printers can produce labels at 300mm per second.  Rewind your labels at the same speed.
How to use a label rewinder
In less than a minute, you can set up your rewind unit to rewind your labels.  No tools needed.  Quick and easy.
Loosen rods that hold the roll core.
2. Adjust the roll core rods
3. Slide on label roll core
4. Print 50cm of labels then press pause on the printer.
5. Stick labels to the core.
6. Switch on the label rewinder, take the printer off pause and print remaining labels. 
Labels are effortlessly and quickly wound onto the core.
7. At the end of the print run, remove the finished roll of labels from the label rewinder.
What to look for with a label rewinder
There are three features to look for with a label rewind unit.
Motor power.  As labels come out of the printer and are rolled onto cores, they can become very heavy.  Smaller underpowered rewinders would struggle to turn the motor.
Core size.  Labels are typically rolled onto three sizes of core.  Make sure you get a rewinder with the correct sized  core, or buy one with an adjustable one.
Tension Adjuster.  The Tension Adjuster means the label rewinder smoothly takes up the printed labels – without undue stress on the labels, printer or rewinder motor.
Stand-alone label rewinder machines cost from £275 up to £600 plus VAT.
Internal rewind units range in price depending on make and model of printer. 
You can 'field fit' internal printer rewind units to some thermal printer models.  The rewind kit includes a special base that raises the printer by a few centimeters to allow space for a roll of labels to be rewound.
Expect to pay around £350 plus VAT for an internal label rewind kit.
Contact us to get a quote for label rewinders or complete the form below.