How to assess your labels for quality
Substandard labels cost you money, reputation and a great deal of inconvenience. To avoid this, you need a process in place to assess your labels for quality. This is critical in pharmaceuticals and other high compliance industries. If you supply the major retailers you will be fined if your labels are not compliant.
Barcode and label standards to follow
How to assess your label quality
Checking what's printed on your labels
Pros and cons of using a basic barcode scanner to assess label barcodes
Why you would use a barcode verifier to assess labels
The best way to assess label print quality
Summary
Read on…
Barcode and Label Standards
For many industries, labels are a critical element in compliance.
Compliance comes in two forms – the label components (size, material, compliance icons, colours, barcodes and required text) and machine readability (ability to scan barcodes).
Industry label standards. Different industries will require different label layouts and will specify icons and certain barcodes, containing certain data. Standards are set by organisations like ODETTE for the automotive sector, FDA regulations for healthcare or EU directives. The scope of different industry label standards is too wide to cover in this article. It is your responsibility to research what your industry label standards are.
Barcode standards. Barcode standards (for example size and shape, bar width, colours or colour contrast) are set by an international organisation called GS1.
GS1 is a not-for-profit organisation that issues barcode numbers and coordinates the way barcodes are developed and used in commerce. It's an international body that has national offices to provide local help and service.
There are generally two different barcodes used for items at a retail point of sale – GTIN8 and GTIN13. Both these barcodes have clearly defined standards in terms of size, height and width proportions, white space, colours and contrast and bar widths.
For what are known as traded items, i.e. a box of 12 cereal boxes or a pallet of dishwasher powder, the choice of barcodes extends to ITF14, GS1-128 or GTIN8 and 13.
For further details on what barcode to use where, when and how – use this great resource from GS1 – Getting it right – guide to barcoding. It's a 58 page pdf and helps with all aspects of barcode printing onto packaging.
Once you have taken advice from your industry body, you can finalise the layout and design and check they are compliant.
What needs to be in place is a 'sign off' to certify the label has been designed correctly.
In the case of pharamaceutical labels or other high compliance labels, label design software like the Enterprise Edition of BarTender can be configured to prevent labels being printed unless they have been approved by an authorised person.
Once the layout is approved it's a matter of ensuring labels are printed correctly and consistently to that standard.
How to Assess Your Label Quality
Production faults with labels show themselves with:
Print not staying on the label or fading and becoming unreadable,
Adhesives not working – and labels falling off items,
Adhesives working too well – and labels not peeling off,
Labels you can't print onto
Specific failures such as Peel & Reveal labels failing to 'reveal' or failing to shut.
Varnishes that are patchy
Faults are usually obvious once the labels are used. If your labels are critical then it is important to test the labels before use. QA will need to assess each consignment. Label faults are very rare. Out of thousands of orders a year we get no more than a couple of faults.
Sometimes label faults might be an inconvenience rather than a failure. Try to include label performance in your process evaluations.
If labels are making your processes less than optimal, contact us for help making your labels perform better.
Checking What's Printed on Your Labels
Variable Label Data
If a label has been designed correctly, the chance of incorrect data being printed on your label or encoded in the RFID chip or barcode is almost nil.
After a label design, layout and data-content is approved the only other point of failure is the origin of the data.
If faulty data is added to your organisation's database, then faulty data will be printed. Examples of this might be an uncapitalised name on a shipping label. Another example might the wrong post code.
Another thing to look out for are changes upstream in the database. A change to a field in a database might show up as incorrect data printed on a label.
Assessing machine readable labels
Machine readable labels, such as barcoded labels or labels with RFID chips embedded in them, need to be assessed first on what data they contain and then secondly – on how well the label meets the barcode or RFID chip's technical specifications.
1. Scan barcodes with a barcode reader.
This is the simplest, cheapest and least reliable way to check barcodes on your labels. Contact us for a simple barcode scanner (costs around £100) .
Here's the approach – it's really simple – have a routine where you scan codes at the beginning, end of your print run and as many times inbetween as you can. If you can't read your barcode then investigate the problem and re-print if needed.
This will pick up faults like a printhead failure but it won't notice much else.
The scope of the barcode quality report is Read or Not Read. Not particularly enlightening.
By scanning a sample of codes it won't notice irregular problems such as where ribbons have wrinkled on a few labels in a large batch of labels.
Barcode scanners vary in quality and performance – so your scanner might read a code, your customer's might not. Remember also, your barcodes might be scanned by multiple scanners throughout the supply chain.
Certainly using a phone is not reccomended. Cameras can read badly damaged barcodes much better than barcode scanners.
It's not perfect but it's a low cost way to check your labels.
This is not a solution in a regulated industry such as pharmaceuticals or healthcare products, where labels need to be perfect.
2. Using a Barcode Verifier to assess your labels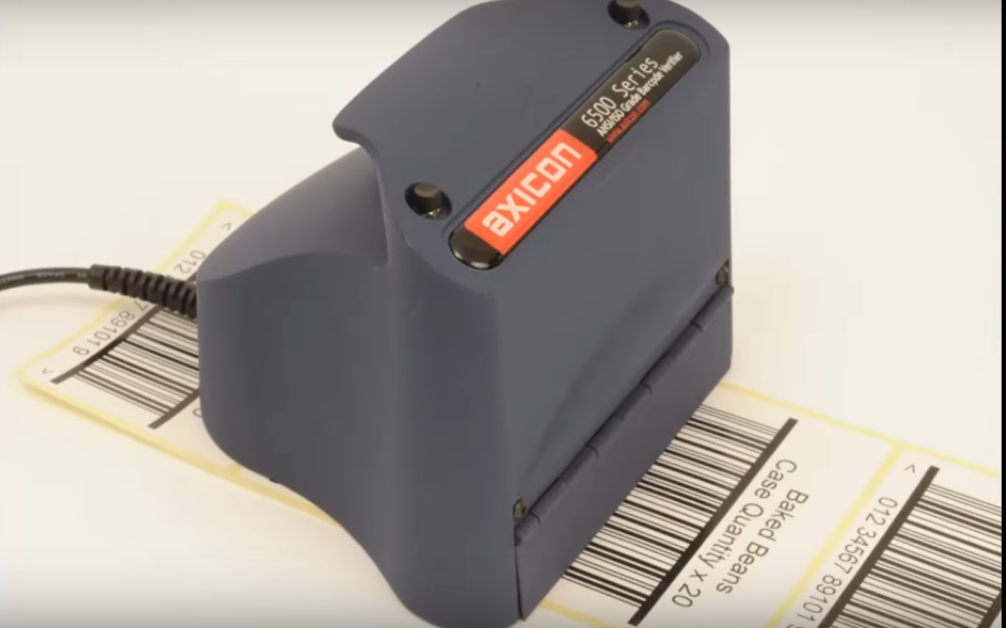 Our previous suggestion was to scan with any old barcode reader and see if it can read. A much more reliable (and one you could argue in court with) is to use an instrument called a barcode verifier.
A Barcode Verifier is a precision instrument that scans and analyses the barcode, taking into account print quality and barcode layout and composition.
A barcode verifier is built to assess against the ISO barcode standards – ISO15416 for linear barcodes and ISO15415 for 2D symbols.
By scanning your barcode you will see if the barcode meets standards and importantly, if it doesn't, you'll know what needs to be fixed.
Perhaps more importantly though, you have a record of compliance that you can use in the event of a dispute.
3. Vision Based Inline-Verification for Printed Label Inspection
The best way to check the quality of barcodes and labels in general is to use a camera-based inline barcode verifier. In-line Verifier means that the camera is fitted onto the label printer and checks the print content and quality of every label printed. This label inspection system is (in our opinion) the best way to ensure the quality of labels.
An inline verifier is the only way a printing fault like this one (below) would be noticed, unless you employ someone to watch every label printed.
Vision based label validation – takes an image of every label passing out of the front of the printer. It compares the image to what is meant to be printed and stops the printer if it encounters a problem.
Vision label quality assurance systems check the readability of 1D and 2D barcodes, along with checking they meet GS1 and ISO standards.
You can set up thresholds for blemishes – so only significant marks stop the printer.
Identify incorrect text, i.e. if the wrong data is included in the label.
Doesn't slow down the printing process. The printers perform at their usual speed.
Uses Optical Character Recognition (OCR) to read the text of the label.
Works with the popular printer manufacturers such as Sato, Printronix, Zebra and Honeywell, though it is only compatible with the high-performance printers in the respective ranges.
Keeps an audit trail of results.
Sophisticated in-line verifiers can even take data from a spreadsheet or database and ensure labels include data from the database.
Set up is reasonably simple: print a label and have it pass through the verifier.
Using the configuration setting – select areas of the label that will change and tell the software what should appear there. Set up areas of the label that need to be ignored.
Let it print.
The printer can be fitted with a light tower that shows a red light if the system encounters an error and needs to stop.
A complete vision based label verification systems cost between £20,000 and £25,000 depending on the thermal printer and any additional training or system validations.
Summary
Contact your industry body and find out what the labelling standards are.
Talk to us about getting your labels designed to meet your industry standard. That might mean using label design software (if you're going to print labels yourself) or engaging a graphic designer.
Sign off your final label design.
Check your labels for quality (such as stickiness or colour) before you need to use them. Ideally when you receive them.
Have a system in place for reporting faulty labels.
If you're printing your own labels, check the labels (including barcodes) contain the correct information – and that the barcodes/RFID chips read correctly at the start and end of each print run.
If the consequences of faulty labels are serious, invest in a barcode verifier to assess barcode quality.
If the process of assessing labels is too time consuming and costly, invest in a camera based label quality assessment tool that will check every label printed.
Contact the experts for labelling advice.
Useful Links
GS1UK.org – the UK branch of the international barcode standards organisation, GS1.
'Getting it Right – Guide to Barcoding' pdf from GS1.
Updated 7 Mar 2021.