Print your own or buy pre-printed labels?
If you use barcode labels, you need to decide if you print your own (along with the software, labels and probably a specialist thermal barcode label printer) OR do you simply buy rolls of pre-printed labels – printed to your specifications.  This article will give you the information you need to decide.
The case for Pre-Printed Labels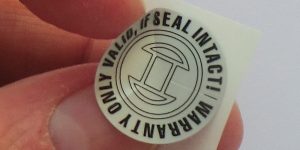 If you need to print lots of labels, by that I mean tens of thousands of labels, outsourcing it to a specialist like us has advantages.  Especially if:
Each barcode label is identical.
Your barcode labels are sequentially numbered.
Your labels will be applied permanently.  A specialised label can be non-removable and even indestructible – maybe you want the label to go through a furnace, or repeated washes.
Security is important to you – if you can print your own labels then others might be able to do the same.  Holograms or security cuts will make your labels hard to copy.
Very small volumes of labels.  If you need just a few thousand labels infrequently, then the cost of the printer and software makes the idea of outsourcing a quick and easy option, without a learning curve and time spent getting up to speed with a thermal label printer.
You're printing tags.  Printing tags isn't easy through a label printer (it's not impossible – but tags specifications are limited).  If you need specialised tags – for example very small, metal, weather proof (perhaps for permanent attachment to fixed assets like furniture, computers or outdoor equipment – think party rental equipment or rental machinery, or even floor labels in a warehouse.)
You need very specialised labels, particularly for niche applications such as automotive, medical/health, pharmaceutical, defence or logistics – handing over printing to a barcode label specialist able to print the data you need, on the right material, in the correct sizes would mean a faster solution for you.
The Case for Print Your Own Labels
If you can't buy pre-printed labels, printing your own labels might prove to be a better option if:
You need to print unique customer information on each label (such as delivery addresses, purchase order numbers etc.)
You need to print weight, batch or quantity information on your labels.
You print small batches, maybe hundreds or a few thousand, on a regular basis.
You have simple white labels to print onto.
You're printing onto direct thermal labels – labels that have a relatively short life and turn brown if subjected to heat.
You need labels urgently and lead times might be a problem.
You're printing tickets or receipts that change daily.
What you need in order to print your own labels, tags and tickets
So you've decided to pre-printed labels aren't for you and you're going to print your own labels.  This is what you'll need to get started:
You'll need to buy a label printer.  Thermal labels are fast and cost effective compared to ink jet or laser printers.  Take a look through our printer pages to help you decide.
You'll need label design software to turn your ideas and data in to labels.  Don't rely on Microsoft Word or Excel to give you the results you need. Take a look at the most popular label design software here.
Labels, tickets or tags.  Choose what's best for your application and make sure it meets any compliance requirements.
Thermal transfer ribbons – this is the ink your labels (tickets or tags) need to be seen.  There is an art to matching the best thermal transfer ribbons to the label or tag material, especially if you are printing onto an unusual material such as plastic or other synthetic material. More about thermal ribbons.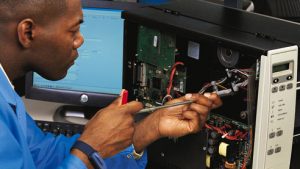 If your labels are critical to your business operations then think about back up printers in case they break down or take out a service contract.
Take the guess work out of labelling, get the help of the label printing experts, call us or email from our contact us page.
Expert Labels Ltd supplies organisations with specialist label printers, barcode scanners, blank or pre-printed labels and thermal ribbons.  We ​provide consultancy services so our clients can take full advantage of barcodes and streamline label printing.
IT and production managers call us when:
They need down-to-earth advice to solve their label printing problems
They're looking for particular labels to solve a specific problem
They don't want to waste time chasing suppliers, checking proofs and matching ribbons for the best results.
They're looking for new label printers but want fast expert advice and help choosing the best label printers
​They know they could benefit from using barcodes but don't know how​
Want help integrating printing into their company's systems
Expert Labels are different from most label companies:
We have hands on experience with the whole of the label printing process from manufacturing labels to printing to scanning the finished label or tag
We are a true one stop shop – able to provide everything you need to print your own labels
We are able to match the right labels to the right printers and use the best ribbons
We are independent suppliers of a wide range of products so we are able to present the best product for your particular application
We love solving problems for our clients
We build long term relationships with our clients – some of whom have worked with us for more than twenty years