What are RFID Labels and how you can benefit from them
Radio Frequency Identification (RFID) is all around us – invisible to the eye, but it makes a big impact on all our lives.  From contactless payment cards in nearly every shop and London's Oyster card, RFID labels are growing in popularity in tracking stock and assets.  Read our short article and see how you can benefit from this powerful technology to reduce your costs. 
The increasing popularity of RFID labels
IDTechEx Research recently published research that predicts the Radio Frequency Identification (RFID) labels market will grow from $10.52 billion in 2016 and is expected a steady rise to $14.9 billion in 2022.  Businesses around the world are using RFID labels in greater numbers each year.  Compared to 2008, there are 300 times more tags and labels sold today.

The technology behind RFID Labels
RFID chips can be added to labels so that an object can be automatically tracked and identified using electromagnetic fields, no more manual scanning – simply pass an object near a reader and it's details are recorded.
RFID labels are often referred to Smart labels.
A RFID system uses tags, or labels attached to products to be identified. Below the surface is hidden a low cost chip and antennae.  Two-way radio transmitter-receivers called interrogators or readers send a signal to the tag so that it can trigger a response.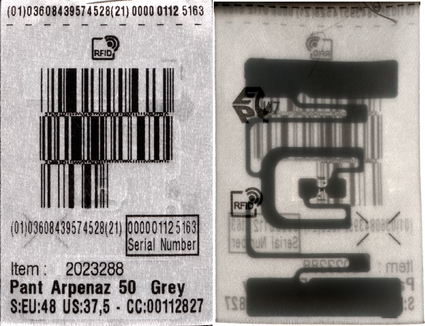 These tags are expected to replace barcodes in increasing numbers in coming years as increasing volumes bring prices down and because they mean people can be redeployed to more useful roles in the business, raising productivity and increasing data capture accuracy.  
Libraries, hospitals and museums have already started to adopt this tracking system rather than the regular barcode and that is one of the reasons why the RFID label market is increasing year by year.
RFID Label applications:
Pharma/Healthcare
Cold retail supply chain
High value consumer goods
Postal services
High value manufactured component
Tool tracking
Sample archiving
Military
Retail
Consumer Packaged Goods Pallets/cases
Shelf Edge Labels
Rollcages
In aviation – ULD
Totes
Vehicles
In retail, RFID continues to be used for tagging clothes – that application alone will demand 8.7 Billion RFID labels in 2017 even though that is less than 20% of the potential market.
Printing RFID Labels
Smart labels (RFID Labels) still need to be over printed with human readable information.  Additionally, product specific information needs to be encoded on the chip so it can be read later.

RFID printers are specifically designed to write data to the RFID chips embedded in smart labels which makes them an invaluable resource for retailers, warehouses and shipping companies. 
How Expert Labels can help you
Expert Labels can provide you with RFID label printers – with printers starting at around £1,500 for a desktop label printer, up to £4,000 for a high volume industrial RFID label printer.  RFID Labels are not available from stock and have to be custom made.  Contact us for further information.
Resources
Zebra's RFID white paper – see page 8
https://www.zebra.com/content/dam/zebra/white-papers/en-us/value-barcodes-rfid-mfg-distribution-white-paper-en-us.pdf.
To read more about the RFID market forecast visit the IDTechEx website