Despite your best efforts, mistakes with packaging, filing or identification do happen.  Products might even need re-labelling because of redundant text, alternative language instructions, telephone number or ingredient changes on the packaging.  Sometimes you need to cover up personal or confidential information or you're a pharmaceutical supplier and need to hide information for a clinical trial. The answer: block out labels.
Block out labels cover up mistakes and confidential or incorrect information without someone being able to read it.  They are a quick and cost effective alternative to completely re-labelling product.  Block out labels or stickers are also known as cover up labels (or black out labels and even opaque labels).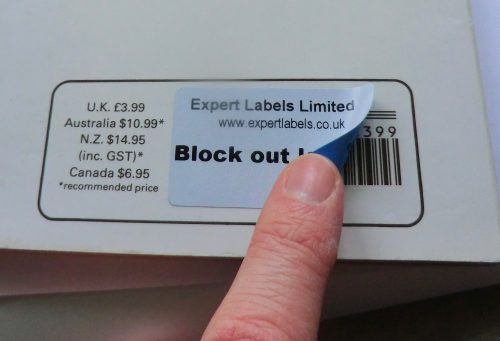 What are Block Out labels?
Block out labels tend to look like standard white paper stickers, however they have a dark coloured ink printed on the reverse of the paper, before the labels' adhesive layer is applied.   The dark ink on the reverse makes the labels appear dense enough to hide existing information on the original packaging they're applied to.
Type of labels:
standard white paper
weatherproof and waterproof plastic block out labels
pre-printed or blank
cut to size labels
circular opaque labels
thermal opaque labels
Applications:
To cover up mistakes on existing packaging or labels
To update information on existing materials
To recycle packaging
To create completely legible print
Clinical trials
Limitations with Block Out Labels
These labels are speciality thermal transfer labels, so you're able to overprint them with your own thermal label printer.  They are usually made to order and not always kept in stock.  The good news is that they can be cut to the most appropriate size (including circular and oval labels) and can be pre-printed or left blank for you to print onto. 
Black out labels are usually made from semi gloss paper, but contact us to order different label materials.  These labels tend to be delivered in roll form.  As with any made to order labels, the more your order the less the unit label cost will be.
Order block-out labels
If you need block out stickers, visit our contact page or give one of our Experts a call today on 01359 271 111. One of our friendly team can advise you on your options and quickly provide a quote.  Alternatively you can fill out a form below and we will contact you.