How to get started with Barcode Label Software
Creating and printing barcodes can be a long and challenging task. But, using Barcode Label Software can save precious time for many business owners. Here's how we can help you get the most out of barcode label software.
Barcode label software includes simple bar code generators to complex programs that manage labels, templates and printing from a large database or ERP system.  With 20 years of experience – pick up the phone and speak to one of the team – our expert advice will save you time.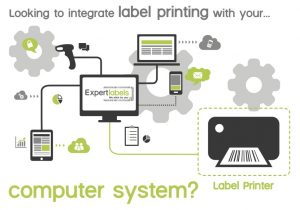 You may be a business owner, a production manager, or an individual selling just a few products.  Regardless of your role, you need a way to produce high quality barcodes – printed to specification.
If you have a wide range of products with different descriptions or prices then you need software that links to a database or spreadsheet, then you'll need label design software that can communicate directly with your label printer in it's native printer language.
If you sell products through a distributor or middleman, then you'll need to speak their language and print a variety of different barcodes, using multiple fonts.
Supermarkets, pharmaceuticals and automotive industries all have heavily regulated, predefined label formats.  We can help with barcode label software that will meet these standards.
Barcode label software – Questions you need to ask
Before choosing a bar code software package, take time to evaluate your needs.
(1) Are you creating and printing a lot of barcodes for business use?
(2) Do you need to meet industry or customer label specifications?
(3) Will you need to use data from other software programs?
(4) Are you planning to add design features to your labels?
Once you have the answers to these questions, contact us for advice or take a look at these pages:
label design and print software