How to Set Up a Compliant Labelling System
For some of our clients (such as pharmaceutical, clinical trials or military contractors) strict, secure document workflows are an essential requirement in order to meet regulatory compliance.  In this article we'll look at how we can set this up for labelling and documentation using Seagull Scientific's BarTender label design software.
Let's start with an example.  Palio Care (I'm making this name up for reasons of commercial confidentiality) work in clinical supply.  They manage the distribution of drugs for pharmaceutical clients working on clinical trials.
In order to comply with strict QA rules they need a labelling system that combines:
Security – only authorised users could undertake label design, QA checking and printing.
Strict Document Workflows – labels could not be printed before they had been checked over by a qualified and authorised person.
Detailed Audit Trail – records were kept of who did what and when in order to provide evidence for compliance audits.
After researching the market, Palio Care found two suppliers who were able to fulfil these requirements – along with being able to design labels and documents with ease and speed.
Seagull Scientific's BarTender and… er, let's call them Pyramid.  I have to admit, I don't know much about Pyramid as a company, but they were dismissed on cost grounds.
Remote Access Label Design Software
Palio Care works with a remote workforce as well as offices in the UK and US.  They wanted to use BarTender through Citrix and after a few hours configuration by their IT manager, they had it operational.  Citrix gave remote users a secure cloud based environment in which to run BarTender.  If you'd like help or advice setting up a remote access label design system, contact us, we'd be pleased to help.
Let's Look at How We Set it Up.
First, we're working with Seagull Scientific's Enterprise Automation edition of BarTender 2016.  It's the top of the range edition with integration to ERP systems (including SAP and Oracle), full document history and, of course, user and group permissions as well as workflows.  BarTender Enterprise Automation edition is licenced on the number of printers that are being used.  That means it can be used across the entire network on as many computers as you wish – without additional cost. BarTender Enterprise Automation Edition uses a MS SQL server database to maintain a central library of documents that any number of PC's can access.
Configuring BarTender Workflows
Using BarTender's Librarian companion app, we set up a simple workflow.  We set up our workflow in such a way that an edited label needed to be checked over by QA before being approved by the client.  Once the Palio Care's client had approved it, the label state could be changed to Awaiting printing.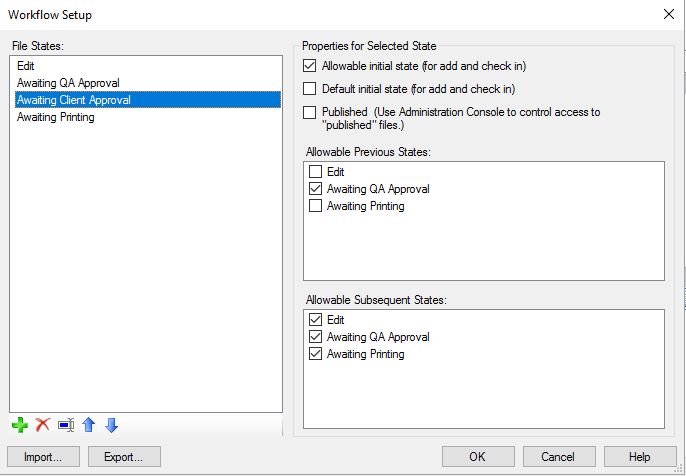 BarTender Security Settings
Now we had the workflow defined, we gave users permission to change file states.
From the Administration Console's Security tab, the user or group in question was configured to allow it to change certain stages.
For example, a 'print operator' group of users can't approve or edit labels.
How the BarTender System Works
This is how we configured our BarTender solution to work for Palio Care.
A label designer designs the label document and saves it by checking it back into the document library.  BarTender prompts the designer to comment on what they have done and has them identify what stage the label is at.  In Palio Care's situation, the designer can only continue editing it, or they can move it to the "Awaiting QA Approval" stage.
With a new stage identified, the QA user is now able to check the label out of the library and carry out their character by character check to ensure the label is correct.
Once satisfied, QA checks the label design back into the library (BarTender has them check their label back in by saving their label design) and update the file's stage to awaiting Client approval.
With the label checked for quality, in the case of Palio Care, the label is added to a form and sent to the Project Manager who has contact with the client.  Once the document is reviewed by the client the Project Manager has the security privileges to be able to go to the document library and change the label's stage.  Now the label is awaiting printing.
With the label at this stage, the Print Operator can print the labels.
Another convenient companion app with BarTender is Print Station.  Using Print Station, the Print Operator is able to quickly find the label they need to print, specify which printer they want BarTender to print to and choose how many labels they want.  No need to go into the design parts of the BarTender applications.
How We Can Help with Your Labelling Project
If you want to implement a compliant labelling system in your regulated business, we can help – in the UK or internationally.
We have a complete set of system validation documentation (in English) that we can use with your project.
Give us a call or contact us through our contact us page.  Alternatively, email us at info@expertlabels.co.uk and request a  project plan to help with your labelling system installation.
Useful Links
Visit the BarTender page on Seagull Scientific's website:
www.seagullscientific.com/label-software/barcode-label-design-and-printing/bartender-enterprise-automation-edition/