How to decide a label budget
If you're new to labels – here's a beginners guide to help you set your label budget and why different labels cost more than others.  Learn:
Read on…
What Your labels are Made of Affects Your Label Budget
At the bottom of the price range are good old paper labels.  You'll find paper labels on bottles and consumer products.  Paper labels are perfect for cardboard boxes, pallet labels and warehouse labels and on documents.   Businesses of all sizes use paper labels, particularly so in retail, healthcare and logistics.  Matte or gloss labels will cost around the same. 
Thermal paper turns black when it's printed with a thermal printer.  Thermal labels are perfect for shipping labels and fresh food.  You'll find a lot of businesses use these in their dispatch area – particularly in transport and logistics.  Thermal paper makes printing labels easy because there's no ink used.  Expect to pay a little more for thermal paper, versus plain paper labels.
Next are standard plastic labels.  Plastic labels are used on assets – where labels are expected to last a couple of years on products.  Plastic labels are waterproof so you'll find them in garden centres and horticulture.  Cosmetics and food and drink also use plastics as they are resistant to oils.  Chemical labels are made of plastics as are many laboratory labels.  Expect to pay 50% more than paper labels.
Clear labels – made from plastic (PE and PP) are marginally more expensive than their white counterparts.  Clear labels are found in a lot of food and drink packaging and extensively in cosmetics, as they allow the product to be seen – and they offer a more attractive appearance. Expect to pay 60% more than paper.
PET plastic labels are more durable and more expensive than standard plastic labels.  If you need labels that are scratch-proof or for higher temperature ranges you need PET labels. 
These labels appear in specialist areas such as high temperature applications – and on assets where durability is important.  Expect to see PET labels in product labelling and healthcare.
PET labels will cost 75% more than paper.
Biodegradable Labels come in paper, biodegradable plastic and clear biodegradable plastic forms.
Biodegradable label material is a small % of global production.  Because volumes are comparatively small, prices are high.  Prices will come down as biodegradable labels become more common, but never as low as standard paper or plastic labels.
Biodegradable labels are used by organisations who have made a commitment to protect the environment – where the environment is a key brand value.  Cosmetics and high quality foods often champion the environment.
Expect to pay five times as much for biodegradable paper labels compared to standard paper.
Biodegradable plastic labels (clear and opaque) will cost around ten times the price of paper.  Plastics cost more than paper and biodegradable plastics cost more still.
Sustainable labels – labels that are both recyclable and don't use water or harmful chemicals in production (e.g. Rock Paper Labels).  They aren't necessarily biodegradable.  Sustainable labels cost around ten times what standard paper costs.  
Global volume of Rock paper is tiny compared to other materials hence a high cost.
High temperature labels will cope with temperatures up to about 350C and cost 20 x more than paper materials.  Used in specialist industries – like electronic PCBs, automotive components or aerospace.
Ultra-high temperature labels will cope with temperature up to 1200C and will cost an impressive 1,000 x more than the equivalent in paper.
Ultra-high temperature labels appear in scientific testing, metal manufacturing and glass manufacturing.
Label Prices Are About the Number of Labels Printed
Little bit of background: Printing labels consists of loading the printing press with a roll of material.  Fitting a die (a die is a metal shape with sharp edges that cuts out the shape of the label from the label material) in order to cut the labels. 
Then, if there are colours to print, there is the printing plate to fit, then select the ink and set it up.  Then… 
You get the idea – there's a fair amount of time before the first label can be printed. 
As you can see above, label printing presses have rollers and loops so to feed the material through the press could take anything from 3 meters to 50 meters of material – before you've cut out the first label.
Before the first label is printed – there's time and waste material. Then there's time cleaning ink off the press afterwards.
Label presses run at several meters a second.  Several thousand labels might be printed in a few seconds, yet setting up the printer took 20 minutes. 
With sophisticated printing presses costing hundreds of thousands of pounds – every minute the press is used for needs to be charged out. 
What I'm getting at is: the cost per label drops massively in the first few thousand labels you print, because so much of the total cost is set-up cost.
How Bespoke and Standard Shapes and Sizes Affect Your Label Budget
As I mentioned earlier – dies – or label cutters (also known as 'tooling') – are the pieces of metal that cut out the shape of the label or tag from the huge rolls of label material. 
We have thousands of label dies in our die library.  However, what happens when we don't have the exact size you need?  We have to have the die made.
Label dies are precision-made by engineers in an off-site factory using large industrial tooling machines.  They are (usually) made from relatively thin sheets of magnetic metal.  Whilst they get made quite quickly – it still takes a few days to get turned around.
If we don't have a cutter that suits your label project – either because you need an unusual size or a very precise size – expect to pay £100 – £250 (depending on how many cutting faces you need).  The smaller the label, the larger the cost of making the die.  If you need perforations between labels – this will bring the cost of the cutter up significantly.
If you need plastic labels, the cost of the label cutter goes up two-fold because the cutter needs to be more durable.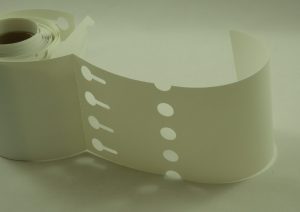 If you need tags cut from heavy duty plastic, such as the horticultural tags in the picture above, and we don't have a size that suits your tag project, expect to pay more than £1,000 for the die cutter.  Cutters for heavy-duty plastic need to be made from solid pieces of metal (so they can be sharpened) not the standard metal sheets you use for paper or thin plastic labels.
Label cutters are a one-off cost, an added cost item in your first label order. 
If you decide to get your labels printed elsewhere you will need to buy a new set of  label cutters, as they are custom made to suit the label printing press they are fitted to.
How Colours Affect Label Costs
Colours make a big difference to your labels.  If your labels sell your product – you need all the help you can get – and that starts with using colours.
If we are printing your colour labels using a traditional 'flexo' printing press, each colour on your label costs money to print. 
That's because inks need to be carefully mixed so they are an exact colour match.  The printing press needs to be set up in order to align the colours and the press adjusted so it prints perfectly.
Then, after the labels are printed, all the machinery needs to be cleaned so future print jobs aren't contaminated.  Cleaning needs to be factored into the cost of the print job.
Not only do you need to cover the costs of printing the colours,  there is a one-off £40 'plate' charge.   Plates are flexible rubber (or plastic) sheets that print an image of each colour onto the label.
Digital Label Printing.
Over the past ten years, digital printing presses (imagine a massive laser or inkjet printer) have become more common. 
Digital printing presses eliminate the need for printing plates.  There's no need to clean the ink off the press after each print run and set up is faster and easier. 
A big part of the cost of labels is 'recovering' the cost of the printing press – every minutes spent printing (or setting up) needs to be charged for. 
Digital presses are generally slower than traditional printing presses.  Because they are slower, there does come a number of labels where traditional presses are more efficient.
Digital printing means short runs of several thousand labels in multiple colours are much more cost effective.
Special Labels - Peel & Reveal and Booklet Labels Costs
Regulations call for more and more text to appear on labels.  Sometimes you might want to simplify international product distribution by including multiple languages on one label. 
With small spaces – the solution is to use multi-layer labels – Peel and Reveal and Booklet labels – where your message can be printed over several pages on one label.
Multi-layer labels are used a lot in food and drink, cosmetics and pharmaceuticals businesses.
Peel & Reveal labels are quite an engineering feat.  Multiple layers of material printed on both sides with a hinge and special adhesive.
All that engineering and complexity means the machinery to make them is expensive, not to mention Peel & Reveal labels have to be tear-proof – so need to be made from plastic. 
What appears to be a simple concept is relatively expensive compared to plain paper labels.
Booklet and fold-out labels cost more than Peel & Reveal, even though they are made from paper.  The machinery to make Booklet and Fold-Out labels is significantly more complicated than Peel & Reveal machinery.
Example price for 1,000 30mm circular two-leaf Peel & Reveal labels printed – £670.  For 5,000 you'll pay £690. Just £20 more. 
For a 45mm x 55mm 8-page Booklet Label with two colours – just 1,000 costs £2,605, with 5,000 costing £2,842
Label Finishes - Soft-Touch Varnishes, Gold Foiling and more
Whilst adding 'embellishments' to your labels adds cost – the perceived quality jumps – more than off-setting the cost of the enhancements.
Foiling, special rough-touch or soft-touch effects, different textures and spot varnishes are seen on high quality food and drink products, cosmetics and high quality packaging. 
Vaping juices and other potentially toxic products are printed with a raised warning triangle on the label.  These are all uses of 'Embellishments' on product labelling.
When your customers compare your product to a competitor's product, the packaging is often the only difference – and if your packaging looks and feels quality – your price can more than cover the labelling costs.
Soft touch
Embossing
Debossing
Matte or gloss lamination
Textured
Spot varnished
Foiling
Ask us about making your labels stand out from the crowd.
These are example costs and just give a good idea of the sort of price you'd pay for labels. 
Please note, these prices are only a guide.  As you have read, there are many different variables included in pricing labels.
Click the Get Quote button below to request an up-to-date and accurate price.
Please allow for VAT and delivery (approx £15) in your budget.
| Dimensions | Material | Details | Quantity & price 1 | Quantity & price 2 |
| --- | --- | --- | --- | --- |
| 38mm x 25mm | Standard matte paper | Blank white | 1,000 - £15 | 40,000 - £160 |
| 45mm x 25mm | Gloss or matte plastic | Blank white | 10,000 - £120 | 30,000 - £155 |
| 50mm x 25mm | Clear Plastic | Printed with black | 4,000 - £208 | 8,000 - £238 |
| 50mm x 25mm | PET plastic labels | Gloss white, blank | 8,000 - £85 | 16,000 - £117 |
| 50mm x 13mm | High Temperature | Blank - suitable for up to 350C | 20,000 - £1,348 | 40,000 - £2,115 |
| 50mm x 30mm | High Temperature | Blank - suitable for up to 350C | 1,000 - £1,038 | |
| 50mm x 20mm | Biodegradable paper | White, Blank | 1,000 - £110 | 5,000 - £155 |
| 65mm x 65mm | Cane Fibre Biodegradable | White, blank sustainable labels | 1,000 - £213 | 5,000 - £277 |
| 46mm x 46mm | Clear biodegradable | 1 colour | 2,000 - £200 | |
| 50mm x 50mm | Paper | 4 page Booklet label full colour | 1,000 - £1,600 | 2,500 - £1,672 |
| 50mm x 65mm | Paper | 8 page Booklet label | 10,000 - £2,650 | 20,000 - £3,024 |
| 54mm Circle | Plastic | 5 page Peel & Reveal labels. Colour first page, black text on other pages. | 1,000 - £592 | 5,000 - £900 |
| 32mm Circle | Plastic | 3 page Peel & Reveal labels. Colour first page, black text on other page. | 4,000 - £429 | |
| 25mm x 25mm | Rock Paper | 4 colours. 8 designs - digitally printed. | 4,000 - £568 | |
| 50mm x 30mm | Ultra-high temperature ceramic labels | Blank - print with thermal transfer printer. Suitable for temperatures up to 1250C. | 15,000 - £5,900 | |
| 100mm x 15mm | Ultra-high temperature ceramic labels | Blank - print with thermal transfer printer. Suitable for temperatures up to 1250C. | 44,000 - £9,600 | |
| 250mm x 25mm | Heavy duty plastic | Blank White Loop lock labels | 2,000 - £80 | 10,000 - £370 |
| 50mm x 72mm | Heavy duty plastic | Blank white Non-adhesive Tags | 3,000 - £315 | 6,000 - £350 |
| 50mm x 50mm | Paper | 2 colour labels | 1,000 - £125 | 5,000 - £180 |
| 38mm x 38mm | Paper | full colour labels | 1,000 - £105 | |
| 25mm x 6mm | Plastic | Blank white Cryogenic labels | 1,000 - £190 | 2,000 - £220 |
| | | | | |
| 45mm x 30mm | Paper | Blank white block out labels | 3,000 - £130 | 6,000 - £145 |
| 50mm x 30mm | Plastic | Mark & Seal electrical safety labels 1 colour printed | 1,000 - £140 | |
| 50mm x 35mm | Plastic | 1 colour printed overlaminated labels | 1,000 - £235 | |
| 101mm x 152mm | Paper | Direct thermal shipping labels | 5,000 - £115 | 20,000 - £250 |